Bounderhill Goldens
Presents
TOPBRASS GOLDENEYE, WC, JH
Sire: Choctaw's Yukon Copper Penny MH, MNH,WCX**
Dam: Topbrass Easter Tulip
Whelped: 01/28/2012
Hip Clearance: GR-110330G25F-VPI
Elbow Clearance: GR-EL30707F25-VPI
Eye Clearance: GR-EYE3588/64F-VPI (2017)
Cardiac Clearance: GR-CA25198/20F/C-VPI
prcd-PRA: Clear by parentage
Ichthyosis: Carrier






KASEY
Achievements:
Kasey is our newest addition to our Golden family. She is a gorgeous girl, with a very pretty dark golden coat. She is starting her retriever training, and so far loves to retrieve. Kasey has an impressive pedigree. Her sire is a three time Master National finalist, and her dam is a Topbrass girl who loves to hunt. Both parents have impressive backgrounds. We believe Kasey will be an eager competitor also as she continues her training with us.
Pedigree

Parents
GrandParents
GreatGrandParents
SIRE

Choctaw's Yukon Copper Penny, MH, WCX

Buckshot's Yukon Bontonbeau, MNH

Buckshot Beau's Bauer, MH
Buckshot's Bon Ton Roulez, SH
Choctaw's Penny Lane , JH
FC AFC Glenhaven HTRS MN Baronet, MH, OS, FDHF
Choctaw Deerwoods Hellsbells

DAM

Topbrass Easter Tulip

Burns' Golden Phoenix, MH OS ***
FC FTCH AFTCH Cedarpond Brasdor Skywalker OS Can. FDHF
Topbrass Mioaks Bingo, MH Am/Can ***OD
Topbrass Pearl The Girl
AFC Emberain Rugby, WCX, OS, FDHF
HRCH Marks A Lot Shelby Cobra, MH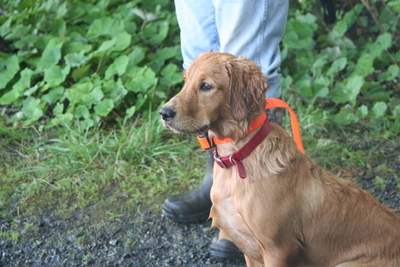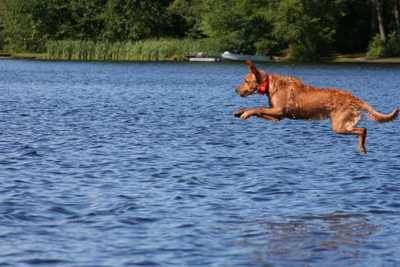 At six months old Kasey learned to fly!